Automatic parking checkout point Light on tokens
—
—
—

Automatic parking checkout point Light on tokens
Light version of RPS CM Light point of sale terminal is closely matching the RPS СМ Standard functionality, however having a number of significant advantages, including the half cost.
Features
Nice design with intuitive customer navigation through the payment process;
Postponed Z reports function is a fully legal opportunity to cut costs on cash logistic and servicing;
Big 10-inch touch screen;
Anti-vandal design;
Makes change by previously accepted notes, extending autonomous service life;
Compact dimensions.
Options
Acceptance of Bank cards, including contactless PayPass;
Installing a barcode scanner to work with discounts;
Acceptance of payments by banknotes. Multilevel authenticity verification of banknotes;
Being in touch with one-time and regular customers. Payment of subscriptions;
Calculation and giving change in banknotes;
Printing fiscal receipts;
Voice-communication with operator;
Dispenser for issuing penalty cards;
Multilingual interface with the possibility of additional localization;
IP-video camera with Fisheye wide-angle lens;
UPS for operation in case of power supply turning off;
Climate control for operation during cold seasons.
Technical characteristics
Consumed power
up to 250 W without a heater, up to 1 kW with a heater
Connection interfaces
TCP/IP
Banknote receiver capacity
1,000 - 2,500 banknotes
Number of nominal values for change
Programmable
Recycler capacity
80 banknotes in circulation
Operating Temperature
from -40 to +50
Self-contained operation time
Not less than 10 minutes
Colors in use
RAL 7015, RAL 7044, RAL 9002, RAL 1016
Supply voltage
AC 220 V/50 Hz
Dimensions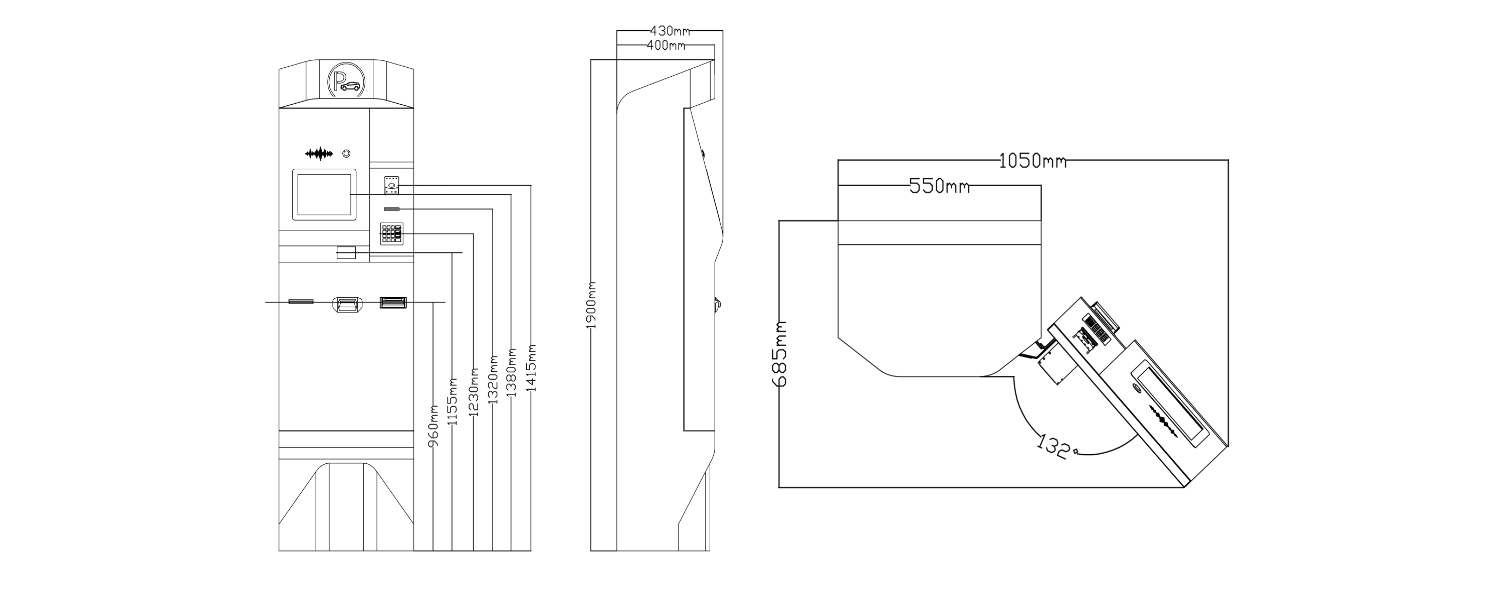 Let's talk! Leave us your phonenumber